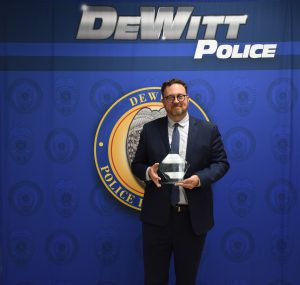 The DeWitt Police Department has recognized J-D Middle School Principal Andy Eldridge for his commitment to student safety. He was awarded the Kenneth C. Andrews Police Commission Award. It's presented to a citizen, business, or community organization that has contributed to the mission of public safety in the Town of DeWitt through generosity, cooperation, commitment, and due diligence. 
Principal Eldridge is being commended for outstanding efforts during and after lock down drills. The police department says he goes above and beyond the norm to ensure that his students, faculty, and staff are as safe as possible. He does this in an unconventional manner by conducting reality-based drills. 
For example, Principal Eldridge decided he would play the role of an active shooter during a drill last Fall. Usually, the lock down drill is called in from the main office. This time, a student observed Principal Eldridge wearing an "active shooter vest" on school grounds and immediately notified a teacher who called the lock down drill from their classroom. The entire school was silent and locked down in under 10 seconds. Police say they were surprised at how smooth everything went given the change in protocol. 
"Our staff and student body understand that the safety and security of our building is paramount to students being successful at school. The award recognizes all of the hard work needed from each person at the school to ensure safety for all. I am honored to accept the Kenneth C. Andrews Police Commission Award on behalf of J-D Middle School" said Principal Andy Eldridge. 
Congratulations on this well-deserved award!