A new Jamesville-DeWitt High School interdisciplinary elective is enabling seniors to become problem solvers and change creators.
There are 14 students enrolled in the high school's year-long Senior Capstone course in which students develop a community-oriented research project centered on a topic of their choice.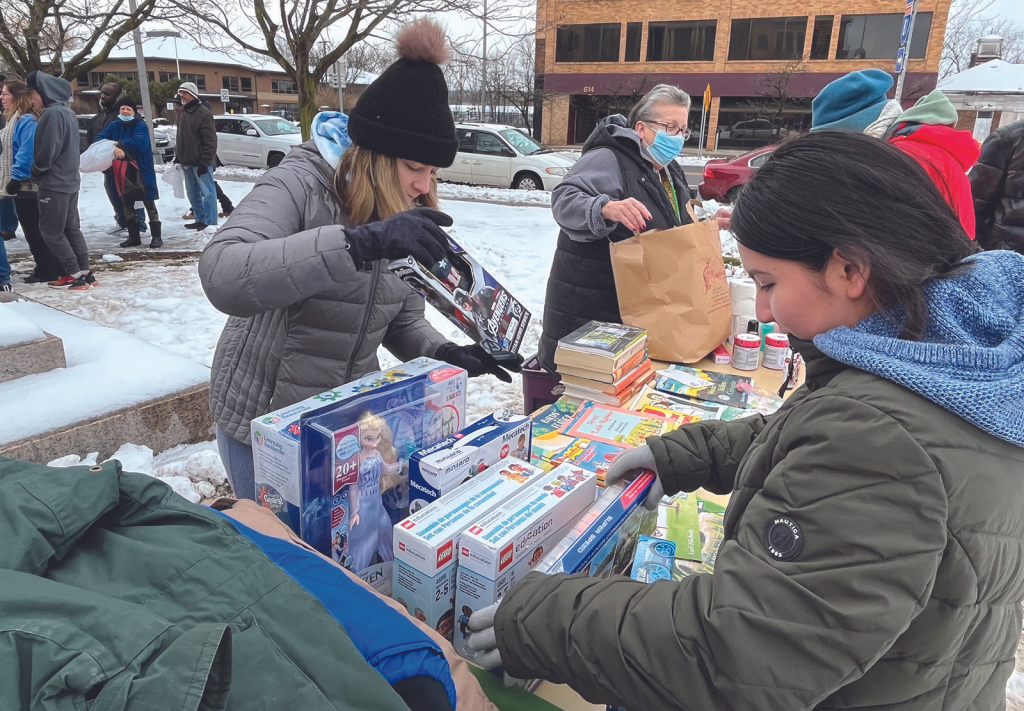 They conduct research, collaborate with teacher-mentors and community experts to produce a culminating project that will be presented and assessed in a public forum. Topics include feeding food insecure people, media portrayal of political women and music and the elderly. 
"We're asking them not to regurgitate research already available, but instead find the gap of what is known and what do they want to see," said high school math teacher Charles Clinton who co-teaches the course with library media specialist Mary Panek. 
Clinton and Panek organized a half-day session on Dec. 13 for students to travel to Syracuse University so they could talk with professors and undergraduate and graduate students with an expertise or area of study in the students' topic areas. 
Senior Meghan Culligan met with several members of the SUNY ESF community, which is adjacent to SU's campus, about her project.
"Being able to talk to people with knowledge about my topic that were so willing to help me and give me information was so meaningful, and I'm extremely grateful for the experience," Culligan said. "I not only took away great insight that I will use in my project but met experienced people in the community that have kept in touch and want to help me beyond the field trip." 
Some students have volunteered with nonprofit organizations and met with professionals working in the community and another is hoping to shadow a local politician. 
"We're really trying to put it on them to figure out how to juggle all the pieces," Panek said.
Throughout the course, students work closely with Clinton and Panek as well as another teacher in the building the student selected as a mentor to support them. 
The nature of their projects require students to hone such skills as oral and written communication, research, time management and how to overcome obstacles, all of which play into the 4 Cs of 21st Century Learning: critical thinking, creativity, collaboration and communication.
"They're not just subject specific skills," Clinton said. 
Students are expected to continue to make outreach into the community as they refine their project.
Sharing their research
The course will culminate on May 24 with students publicly presenting their projects at the Community Library of DeWitt & Jamesville. Members of the public will be welcomed to talk with the students about their research and ask them questions. 
Seal of Civil Readiness
In addition to earning one credit toward graduation, students who successfully complete the course will earn the New York State Seal of Civic Readiness, which recognizes students for achieving a high level of proficiency in terms of civic knowledge, skills, mindset and experiences. The Seal appears on a student's high school transcript and diploma.