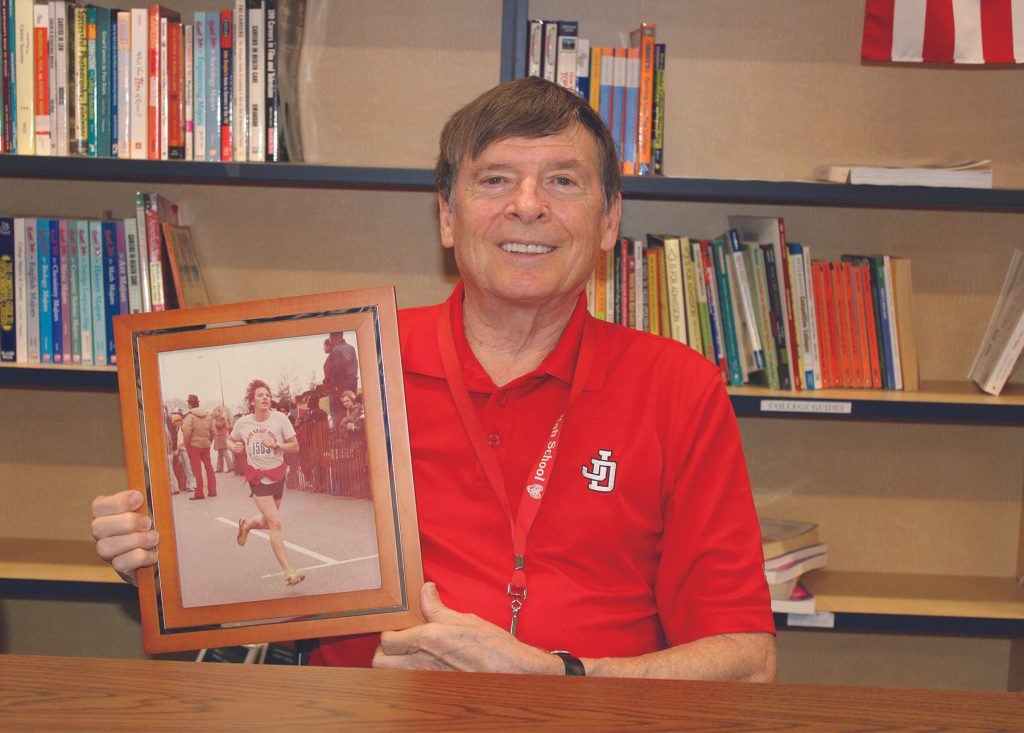 After 51 years coaching Jamesville-DeWitt Central School District student-athletes and leading their cross country and track teams to 38 league championships and 18 sectional championships, Jim Lawton has retired from coaching. 

"I enjoyed the enthusiasm and dedication of the kids," Lawton said. "It's a totally different feeling working with kids on a sports team than in a classroom."

Lawton was a SUNY Oswego student when he launched his career in education at J-D in 1971 as a student teacher. That's also when he first began coaching J-D's runners. He accepted an assistant coach position for the boys outdoor track team that year and held that role for five seasons.
He then served as the team's co-head coach for one season and assumed the head coach position in 1977. By then, he was already the head coach for the boys and girls cross country teams and added boys and girls indoor track in 1987.

During his career, he coached a total of 166 teams. Some years teams had as few as seven students, and other years there could be around 40 students. 

In addition to coaching, Lawton taught biology at J-D from 1972 until 2004, when he retired. That's also the year he stopped coaching indoor track, focusing on cross country and outdoor track. He stopped coaching outdoor track in 2021.

With the 2022 cross country season done, the 74-year-old felt it was time to retire entirely from coaching and spend time with his wife of 52 years and travel more to see his children and grandchildren, who live out of state.  

"I always said I would coach as long as it was fun. COVID took a lot of the fun out of it. We're still feeling the effects of it," Lawton said. "That and my knees have been telling me for years to retire."

Lawton still worked out and ran with his athletes when they trained. He said in recent years he may not have gone as far as them, but he still went on the trails. Sometimes he would catch up to a group, and he would hear, 'Here comes Coach. We better get going!'"

He said his philosophy has always been, "I want you to enjoy it" and "the faster you run, the sooner you get done." 

One of his favorite memories is from about 1978 at Aquinas Institute of Rochester when a boys team set a record for the 4 x 1 mile. That record stood for 22 years.
While much has changed since 1971 when Lawton first came to J-D, the skills student-athletes need to develop to be successful remain the same, such as time management and the ability to prioritize tasks and responsibilities, he said. They are also skills that will serve them well beyond high school. 

J-D Director of Health, PE, Nurses and Athletics John Goodson said the purpose of education-based athletics is child growth and development. Student-athletes learn important soft skills, such as leadership, teamwork and communication along with character traits such as perseverance and sportsmanship, all of which are taught on a daily basis through the vehicle of sport, Goodson said. "Jim is the true professional educator and coach of educational based athletics. He was able to achieve distinctive results in a positive and nurturing environment. I have been blessed to be able to work with Jim for the past 13 years," Goodson said. "He has been our cornerstone in the running program, and he will be deeply missed by all of us in the school community."